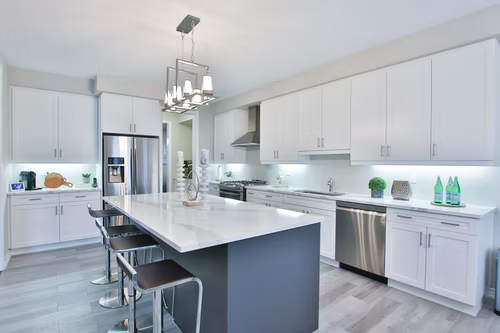 A kitchen should fit your lifestyle. Consider how often you cook, entertain, or do your homework. Consider what types of appliances you will need and how much space you'll need for storage. Also consider how much maintenance you're willing to spend on the space. It's worth it to hire a professional for a thorough consultation and evaluation of your kitchen. After all, you don't want to waste your hard earned money!
Choose a contractor who's up to the task of remodeling your kitchen. A kitchen renovation is a major undertaking, and choosing a quality contractor will ensure a seamless process. Getting several quotes will ensure that you're getting the right contractor for the job. Be sure to talk about the design, materials, and other details with the prospective contractor before making any final decisions. Make sure the contractor has an extensive product selection and keeps up with industry trends.
Consider flooring, backsplash, and countertops. Wood cabinets and high-end tile are ideal choices for a kitchen. Vinyl plank products can give the room a sleek, contemporary look. Cabinets, however, are necessary to hold up countertops. Cabinets can also provide storage underneath. The floor plan of your kitchen will determine which materials are right for it. Ultimately, a well-designed kitchen will add value and style to your home.
Consider your timeframe. The National Kitchen and Bath Association recommends that you begin planning a kitchen renovation at least six months prior to the construction start date. This allows you to eliminate change orders during the construction process, which can increase costs and lower your return on investment. During the planning stages, take the time to measure the space and determine the height of the countertops and doorways. By making sure you have an accurate measurement, the contractor can provide you with a customized quote for your new kitchen.
As with any project, a kitchen renovation is a big investment. Make sure you follow your budget closely. Build in a reserve fund for any unexpected costs. When you're remodeling an older home, remember to consider your budget in case unforeseen expenses arise. Even if you're remodeling a single room, it's best to budget for at least 10 to 15 percent of the value of your home. Remember, the end result will make it well worth the effort.
Choose the right materials and colors. Many kitchens have numerous styles and colors. Before choosing your new kitchen, make sure you determine the look, color, and materials you want. Then, consult with an experienced kitchen remodeling professional to make sure you choose the right ones. Remember that kitchens come in all shapes and sizes, so be sure to choose one that fits your needs and personality. When planning a kitchen renovation, remember to consider your home's resale value as well as the quality of the material used.
Consider storage options. While the kitchen is a hub of activity, there is often too little counter space to properly prepare meals. You may want to consider adding more storage space for dishes, pots, and pans. A few extra pots and pans may not be enough to accommodate your new additions. Having extra storage space may also make your life easier while the kitchen renovation is taking place. This way, you won't have to move all of your kitchen appliances to another room.
For more info about Home Renovators and Kitchen Renovators Toronto visit TroCanada.